Notice for Change of Download Limit Counting Method
As of May 16th, 2018, the method of counting download limit has been changed.
We used to limit how much to download by total file size (GB), but now we count how many movies are downloaded per day.
Daily count of downloadable movies will depend on your membership status as below:
Regular Member: 3 movies
Deluxe Member: 4 movies
Super Deluxe Member: 5 movies
Change of Daily Download Limit Image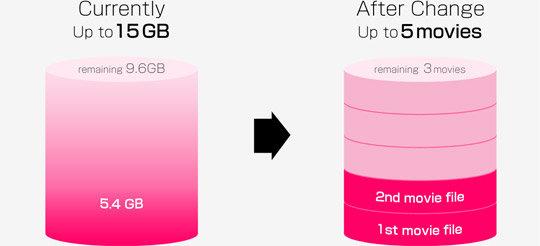 If it's the same movie, you can download as many times as you'd like within the same day of download regardless of the file type.
Example 1: You started downloading a FULL HD movie but it got disconnected! If you want to download the same movie again,
Current→ failed download is counted toward download limit.
After the change→ you can download it again without losing any downloadable movie counts.
Example 2: You downloaded a FULL HD file for watching it on your computer. If you also want to download a Mobile file of the same movie for your smart phone,
Current→ you lose downloadable space for both FULL HD and Mobile file sizes.
After the change→ downloadable movie counts will remain the same.
* When your daily download limit has been reached, you can download again after 1PM PDT/12PM PST.
* You cannot change the movie once download is started even after stopping it a part way through.
* Streaming is unlimited as before.